Software and Tools - Flyers
Platform for scalable information processing (PFSIP)
Platform for web monitoring (web pages, forums, RSS channels, news, Facebook, Twitter, etc...), information extraction, semantic search, full-text search, reasoning over data. Hadoop scalable information processing with plug-ins for parsing and information extraction. For more information please contact us at email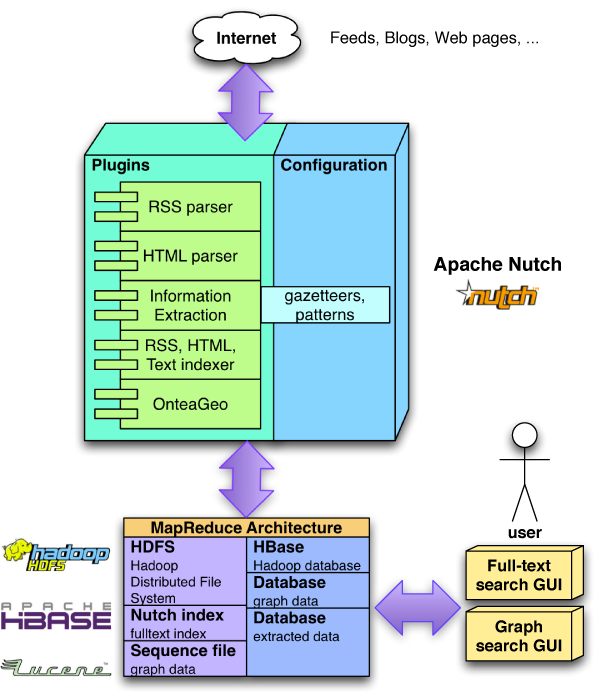 Use cases of the platform for monitoring web
IKT tool chain
The architecture and the tools are originally designed and developed in the NAZOU project (2004-2006). Designed tools are chained in the IKT architecture. At the moment, several tools are continually developing but the architecture is adapted and involved with modern in-trend technologies.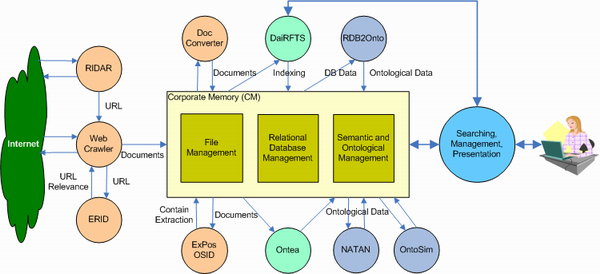 Email Social Network Search
Email Social Network Search explores new approach for searching email archives as knowledge repository
Ontea
Ontology based Text Annotation using Regular Expression Patterns
WEBCRAWLER
WebCrawler downloads recursively web pages. Only relevant documents are downloaded estimating relevance using ERID.
ExPoS design
The tool objective is to extract useful information from the webpage contents downloaded and stored in the Corporate Memory.
RDB2Onto
Tool for Relational Data to Ontology Individuals Mapping
RIDAR
Relevant Internet Data Resource Identification
ERID
Estimate Relevance of Internet Documents
SGDB
Simple Graph Database optimised for fast graph traversing
ACoMA
Acoma process email communication on server side and attach relevant knowledge to email messages.
AgentOWL
Agents with OWL ontology models using JADE agent system and Jena
EMBET
Experience Management based on Text Notes - Active and Context sensitive Recommendation System
SETH
SETH is a software effort to deeply integrate Python with Web Ontology Language (OWL-DL dialect)
wsrf2owl-s
WSRF2OWL-S generates the semantic descriptions of the web and grid services.